Winners of Social Media Games
With the end of the festival, comes the end of Transeuropa 2013 social media games and the announcement of the winners: Loïc from Paris in his best interpretation of Super Transeuropa Man, and Vanya from Barcelona explaining that #TEF2013 for her means "escaping the routine".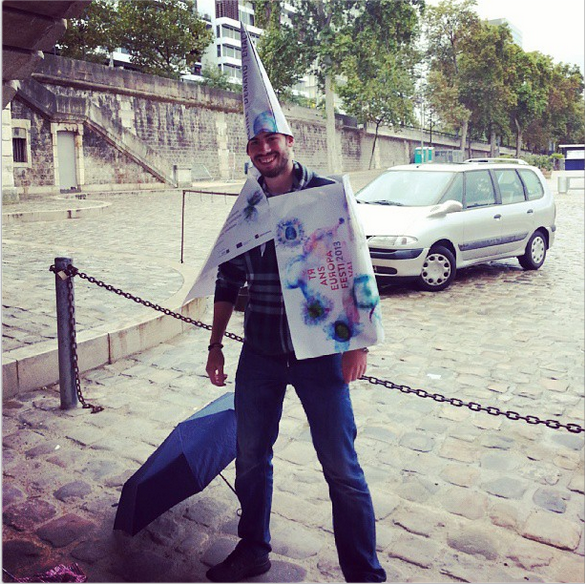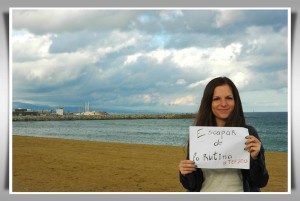 A big thank you to all who participated: your passion and creativity is heartwarming! And see you at Transeuropa festival 2015!
TRANSEUROPA FORUM IN BERLIN Cuban artist Tania Bruguera says: "Art is a tool to enact ideas that seem impossible"
TRANSEUROPA FORUM has inaugurated at Allianz Kulturforum in Berlin on Friday 25th October 2013 with the keynote speech by journalist and commentator Robert Misik (taz.de, Standard). Misik's intervention evolved around the questions "What kind of Europe do we want? What kind of community? What kind of politics?". His concerns are that things are not working that well anymore. He said, "We need more instruments for citizens to participate. More democracy, less expertocracy". He added: "Although to get out of the crisis we need more Europe, European politics has dramatically lost legitimization in the past years". The evening continued with the round table "Are you uncomfortable disrupting normal behaviour? – Acts of dissidence and radical citizenship", which has been moderated by journalist Margerita Tsomou. The discussion focused on the interaction between artistic practice and democratic resistance. Its starting point is that "here in Europe we have entered in a permanent state of crisis". Erdem Gündüz, the Turkish choreographer who surged to fame as The Standing Man of Taksim Square, pointed out that we need new meanings of democracy. In particular, as Gündüz has noted during the protests in Istanbul last summer, "individual activity has more effect than collective activity, because the system cannot (yet) deal with it". The necessity for new forms of protests has been highlighted by Ole Frahm and Torsten Michaelson of the German artist collective LIGNA. In particular, Frahm noted that the control in and on our society has changed, and that Art is an important mean for agency and not only of representation. At this stage Tania Bruguera, the world-famous Cuban installation and performance artist, talked about her concept of arte util, which means both "useful art" and "art as a tool". According to her, "political art (i.e., art that works politically) is the art that deal with consequences, the art that makes metaphors operative". She added: "Art is a tool to solve problems. Art is a tool to enact ideas that seem impossible. Art can be used to infiltrate the political terrain" with new ideas and meanings. The evening of discussion has been preceded by the enactment of the artistic performance Air Time at Brandenburg Gate at 17:30, which took place with the participation of Erdem Gündüz, the LIGNA collective and of more than 70 people who have staged a 40-minute long choreography inspired by the actions and the ideas of movements of protests all around the worlds. Air Time consisted of an artistic audio track that participants had previously downloaded to their mo3 players. The track gave instructions to participants on how to interact with the space and people around them. Photos and press material are immediately available at:
https://2013.transeuropafestival.eu/press
Loved the festival? Tweet about it!
In three days Air Time will open in Berlin the Transeuropa Conference, the perfect moment to exchange opinions on what went on this month in your city and what you hope to achieve next year, so why don't start now? We would love to know what amazed you the most, and all the other volunteers are curious to learn about other countries' experiences, so tweet us #TEF2013 your favourite moment during Transeuropa festival or a picture that summarise what think was the best event. Looking forward hearing from you!
EAs first Member General Assembly – 27.10 in Berlin!
DON'T MISS THE FIRST ANNUAL GENERAL MEETING
OF EUROPEAN ALTERNATIVES MEMBERS
 
 JOIN US ON OCTOBER 27 IN BERLIN!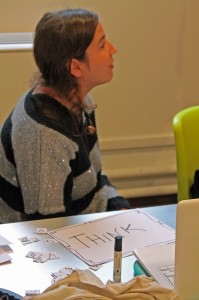 October is a full month for all Transeuropeans!
The Transeuropa Festival started successfully with the air time opening performance performed synchronously in 10 cities across Europe, and we are now heading towards the Transeuropa Forum which will take place in Berlin on October 25 and October 26. The Air time performance and the presentation of the Citizens Manifesto will be the highlights of this Forum together with workshops, unconference, and of course a Transeuropean party!
But for European Alternatives, the end of the Festival is also a great opportunity to convene its first Annual General Meeting (AGM) of all members!
The first AGM of European Alternatives members will take place in Berlin on October 27th from 12pm to 5.30pm and will be the opportunity for all members to gather after the Festival and the final forum in order to discuss as many things as the recent governance reform, the budget, the transnational activities and projects, etc. The main focus of this AGM will be EA's orientation and priorities for the coming years! EA is committed to give its members the opportunity to have their say in the future of the organization and is looking forward to listening to, and discuss, the inputs given by all members! In addition to this, for those interested, EA organises 4 parallel workshops on local groups, transnational projects, the Cooperative, and local group activities. Everything you always wanted to know about EA and to discuss with other members will be in your hands during the AGM!
First Annual General Meeting of European Alternatives Members
Sunday 27 October 2013
Agenda
All necessary materials and documents will be circulated prior to the AGM. Upon arrival participants will be greeted with small snacks and hot beverages, but we recommand everyone to pack and bring some lunch for themselves!
12h-12h20
1. Discussing EA structure, functioning, and governance reform (20 min)
12h20-13h
2. Discussing EA activities (40 min)
– Discussing the major projects run transnationally in 2012-2013 (20 min)
– Discussing the Festival, including the Mani-Fest and CP, on-the-spot impressions (20 min)
13h30-15h30
3. Discussing EA orientation (2h00)
– Q&A on the grants received and projects foreseen for 2013-2014, as well as on the pending applications and applications which are expected to be submitted, if any. (15 min)
– Participative sessions: identifying priorities and discussing potential projects, ideas, and cooperations for the next year(s) (2×30 min)
– Presentation of the results of the participative sessions, and open discussion in plenary (maybe with a formal vote too on the main priorities identified) (45 min)
Coffee break – 15 min
15h30-16h00
4. Discussing EA finances (30 min)
– Q&A and discussion of EA 2012-2013 budget (15 min)
– Q&A and discussion on the prospective budget of EA (2013-2014) (15 min)
Coffee break – 15min
16h15-17h30
5. Parallel workshops (1h15, optional):
– How to create and run a local group?
– How to develop a transnational project with other groups?
– How to strengthen the role of the Cooperative and the cooperation between local groups?
– Presentations of local groups activities.
A Conference on New European Migration Policies at the European Parliament
Following the recent events of Lampedusa (Sicily, Italy), many individuals and organizations are now demanding a more incisive role of the European institutions in order to rethink asylum and to prevent the inhuman treatment of people across frontiers to become a routine.
As the UNHCR, the Council of Europe and the European Parliament itself have already denounced, inhuman treatments and recurrent human rights violations are everyday business in the administrative detention centres (i.e., the so-called "CIE centres").
On Thursday 17th October 2013 at the European Parliament in Brussels a conference will be held with the participation of the Italian Ministry for Integration Cécile Kyenge Kashetu, several MEPs amongst whom are Hélène Flautre and Marie-Christine Vergiat, and the European Commissioner for Home Affairs Cecilia Malmström (invited). Representatives of the civil society organizations, which are involved in campaign against administrative detention in France, Hungary, Italy, Spain and the United Kingdom, are also taking part in the conference.
The conference has been organized by European Alternatives, a transnational NGO which has been actively involved in monitoring and denouncing the administrative detention centres. European Alternatives has also promoted a discussion at the institutional level on the possibilities for alternative measures to the administrative detention and on the development of new European migration policies.
The issue of administrative detention is now considered with particular attention and involvement from the European citizens in view of the revision of the Directive 2008/115/CE (i.e., the so called "Returns Directive") and of 2014 European Parliament election.
Information
Conference at the European Parliament
17th October, Room P5B001, 9.00 AM
Agenda: http://on.fb.me/GDwxpV
Press Conference (EN-FR-IT)
17th October, Room ASP 5G02, 2.30 PM
Press Contacts
Anna Lodeserto, a.lodeserto@euroalter.com – +39 345 32 31 023
Alessio Pisanò, press@euroalter.com – +32 (0) 488 88 2350
Websites
European Alternatives: www.euroalter.com/IT
Facebook Event: http://on.fb.me/GDwxpV
Air Time is coming to Berlin!
Join us for the enactment of Air Time with the artists and of Erdem Gündüz Friday 25 at 17:30 in Pariser Platz!
AIR TIME is an audio art work which aims at reflecting on the current protests and on possible forms of collective action. Everybody can participate! Bring your MP3 player or smartphone including headphones to Alexanderplatz-Weltzeituhr and download the track beforehand from the website:  https://2013.transeuropafestival.eu/programme/activities/listen-and-see/airtime
To know what happened in all the cities for the transnational opening of the festival, check out the media story !
Coming to the Transeuropa Forum? Remember to register!
You booked your flight to Berlin? You found a lovely room to stay or generous friend to host you? You proposed a workshop for the unConference? Super! One last step to be able to attend: register here https://transeuropaforum.eventbrite.com/ or for security's reasons you will not be allowed in. So register, and see you soon!
Propose a Workshop for the Unconference at Transeuropa Forum in Berlin – Sat 26th of November
Sick and tired of this Europe? Reshuffle the cards with us!
European Alternatives invites you to participate in our UnConference on 26 October 2013, part of the Transeuropa Forum Berlin. Together with activists, artists, civil society actors, decision-makers and interested individuals, we will imagine ideas for a better Europe, shape our demands and discuss how, with whom and when to enact them at this crucial point of European history.
You have a thing or two to say on Europe's future? Is there any issue that you care about which could benefit from a Europe-wide perspective? Propose a workshop on line and vote for your favorite workshop here!
The sessions should be one hour long. The format of the session could be anything: presentation, workshop, moderated discussion, a walk, a performance…Make it interactive and keep in mind the moto of Transeuropa Festival: Imagine, Demand, Enact a better Europe. The language of the UnConference will be English, so the session you propose should be in English too. If you are not in Berlin, travel bursaries will be available for one or two people per session for pre-selected sessions
Imagine, Demand, Enact an Alternative Europe! What is it about?
Despite 2013 being the European Year of Citizens and despite the elections to the European Parliament  just around the corner, more and more people feel disconnected from the idea and do not identify with this Europe anymore. What kind of Europe do we want? How can we make it happen? How can we address the challenges ahead?
European Alternatives believes that no way out of the economic, social and political crisis in Europe can be found without putting citizens at the centre of the decision-making process and having European debates that go beyond national perspectives. That is why for the last three years we gathered citizens, civil society organisations and local authorities from all over Europe to formulate a Citizens Manifesto, a shared set of demands for change in EU decision-making on topics ranging from employment and welfare to civil rights and economic and political reforms.
This is our way forward, what is yours? Join the UnConference and have your say on the European issues that really interest you.
How does the "UnConference" work?
In an UnConference the agenda is created by the attendees. Being a "bottom-up event", the topics will be decided on by democratic polling. Anyone who wants to initiate a discussion on a topic can claim a time and a space (a session). In our UnConference we will have four parallel sessions (see grid below). The format of a session could be anything: presentation, workshop, moderated discussion, a walk, a performance… just make it interactive. An UnConference is about exchange!
12:00 – 12:30: Group discussion, explanation of concept
12:30 – 14:00: Walking Lunch | proposal and voting time
14:00 – 15:00: Session 1 A, B, C, D
15:00 – 16:00: Session 2 A, B, C, D
16:30 – 17:00: Session 3 A, B, C, D
Propose a Workshop on line and Vote for your favorite!
Air Time — Transnational Festival Opening, Coming up on Saturday!
Transeuropa Festival is opening this Saturday with Air Time, a transnational performance where all can participate!
Air Time is an audio artwork that will be performed synchronously across Europe. Air Time is a collective action about protest, which takes place in public space in ten European cities.
If you want to find out more on Air Time, click on the image below!
Hit List Videos and Pictures! Social Media Game for #TEF2013
Participate to the Social Media Game for Transeuropa Festival and Win Festival Goodies!
How to participate?
Stay focussed on the topic!
Post what inspires you as an answer to this question: "What is Transeuropa Festival for you?"
Or
Participate to the Vox Pop! Ask passerbys/friends/family the following questions:
"The European elections are coming next year. What do you think the priorities for Europe should be?"
and/or "What can you do as a citizens to make Europe a better place?"
Answers should be short! Just a few words. In any case under 30 seconds. Questions & Answers can be in your own language, not necessarily in English but please give us a hint of the answer in English.
What can you win?
The most important thing is the game but…the coolest masterpieces will win a bag of festival goodies. And your videos and pics may be re-posted on Transeuropa Festival social media channels and circulated or on a dedicated website for the Vox Pop!
The winners will be announced during Transeuropa Forum in Berlin (25-27 October) and goodies will be given there or sent out!
Grab your phone, and participate!