Amsterdam
In view of the European elections in 2014 the usual discussions will dominate. But what European topics are actually relevant? In the transformation from I Amsterdam to I Europe during the festival the city will be the stage for a range of activities that present current topics
differently
. From bike tours to urban games and from a living library to methods for coping with the crisis: Transeuropa Festival offers you insight in a socially, economically and politically alternative Europe. Imagine. Demand. Enact.
In aanloop naar de Europese verkiezingen in 2014 zullen de gebruikelijke discussies domineren. Maar welke Europese thema's zijn nu écht relevant? Tijdens het festival zal de stad in transformatie van I Amsterdam naar I Europe het toneel zijn voor een reeks activiteiten die actuele thema's anders belichten. Van een fietstocht tot urban games en van een levende bibliotheek tot crisiscopen: Transeuropa Festival biedt jou zicht op een sociaal, economisch en politiek alternatief Europa. Imagine. Demand. Enact.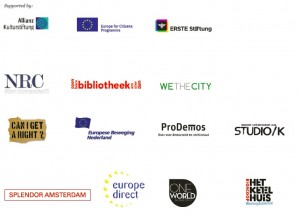 Download the programme
There are no upcoming events to display at this time.